Event Summary
This workshop provides operations and maintenance engineers in pipeline companies with the knowledge to establish and manage an ILI program that contributes optimum value toward improved pipeline integrity.
Registration will be limited to 30 people to optimize the interaction between instructors and attendees. 
Attendees will receive 22 Professional Development Hours (PDH) upon completion
Learning Objectives
At the completion of the workshop, the student will be able to:
Select the appropriate intelligent pig(s) for the potential defects in a pipeline
Critically review results from a pipeline inspection project
Use the information from an intelligent pig run to develop an appropriate repair, replacement, remediation program
Set out relevant issues in contract documents
Will know:
The principles of design and operation of key systems and parts of an intelligent pig: sensors; signal processing; storage; power source; markers
The advantages and disadvantages of competing technologies
The defects that intelligent pigs currently do not detect or size well
The attributes of manual and automated data analysis processes
The range of sensing technologies currently applied in intelligent pigs
How an intelligent pigging program contributes to pipeline integrity
How to prioritize pipeline sections for inspection using basic risk analysis techniques
Fundamentals of defect assessment – how to prioritize repair and replacement
The precision and accuracy of various inspection techniques
The implications of incorporating intelligent pigging information into an integrated pipeline integrity information system
About the influence of pig inspection speed and the use of speed control on pigs
Will know where to find:
Intelligent pigs that are available on the market
Pipeline failure statistics
Pipeline failure case studies
Regulatory requirements regarding the use of intelligent pigs
Prior Knowledge Recommendations
Basic pipeline operations
Basic NDT understanding
Who Should Attend
Operations and maintenance engineers and senior technicians in pipeline operating or owning companies responsible for in-line inspections using intelligent pigs.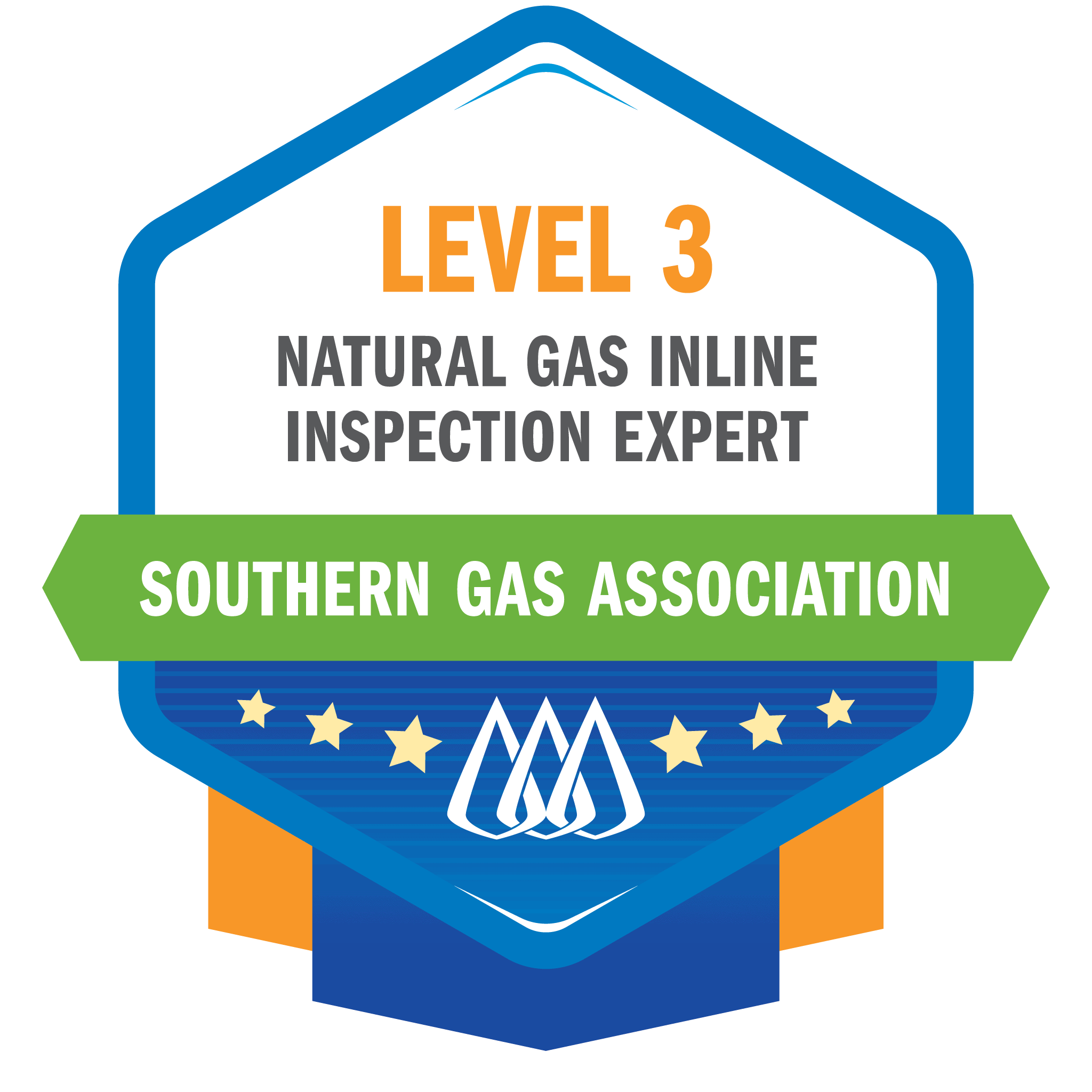 Credly Digital Badge
Level 3 Natural Gas Industry Inline Inspection Expert
---
SGA has partnered with Credly, the leader in digital credentials, to certify the recipients have a dynamic understanding of establishing and managing an inline inspection program that contributes optimum value toward improved pipeline integrity. They have a working knowledge of the following: principles of design and operation of key systems of an intelligent pig, attributes of data analysis processes, prioritizing for inspection, repair and replacement assessments, inspection efficiency and speed control of pigs.
Criteria
Level 3 Natural Gas Industry Inline Inspection Experts with this credential must have completed the prerequisite of Southern Gas Association's Practical Inline Inspection course in addition to Advanced Inline Inspection. Additionally, they must be currently employed and have professional, technical or field exposure that is directly attributed to the natural gas industry.
Meet Your Instructors:
Bruce Nestleroth
Thomas Bubenik
Michael Rosenfeld
Matt Romney
McKenzie Kissel
Matthew Ellinger
Lucinda Smart
Anne Schniederbruns
Simon Slater
Stefan Vages
Benjamin Hanna
Miguel Irigoyen