BENEFITS
Join industry peers, in person or virtually, at the 2023 Technical Conference to hear from operators and industry partners alike on an array of environmental topics ranging from sustainability to new technologies, to our changing regulatory and cultural environment. Featuring sessions covering Environmental Permitting, Construction, and new for 2023: Air Quality Compliance & Permitting, this conference offers insights for newcomers, industry veterans, and everyone in between. Merging the perspectives of gas operators and associate industry partners, TCEPC presents an opportunity to learn from the best-in-class in the natural gas industry and grow your network with engaging networking events.
Where industry experts and leaders debate and discuss the issues and challenges facing natural gas community in 2023 and beyond.
The renowned Technical Conference on Environmental Permitting & Construction Conference serves as a valuable platform for gaining consensus, sharing expertise and vision, raising the voice of natural gas, and providing solutions to the industry's major challenges. Southern Gas Association hosts this in-demand event where environmental, energy and sustainability executives from natural gas operating, supplier, engineering, and environmental companies, as well as universities and government agencies will gather. All will learn how large organizations are meeting the challenges of complying with environmental regulations, reaching enterprise-wide sustainability goals, and reaching energy management targets. Both the Environmental Permitting & Construction learning tracks provide a forum for strategic planning on the industry's immediate priorities that are shaped in close consultation with industry experts serving on the conference planning committee.
WHO SHOULD ATTEND
Natural gas industry professionals.
EXPECTED ATTENDANCE
200+ Industry professionals 
INCLUDED WITH REGISTRATION
(2) Breakfast

General Sessions with Keynote Speaker

Sessions

Networking Breaks

(2) Lunches

Welcome Reception

Closing Reception

 
Location & Lodging
Omni Oklahoma City Hotel 
100 West Oklahoma City Blvd. 
Oklahoma City, Oklahoma 73109
405-438-6500
Room Rate
$205.00 plus tax (single)

$205.00 plus tax (double)

 
Click here to reserve your hotel online.
Hotel Cut-Off Date: Monday, January 7, 2023  
Sleeping room reservations can be made, modified or canceled by individuals calling Omni reservations at 1-800-THE-OMNI and referring to SGA and the 2023 TECHNICAL & CONSTRUCTION CONFERENCE ON ENVIRONMENTAL PERMITTING. Reservations must be made on or before the cut-off date.  
Early Departure Fees
Should you depart prior to your original reserved departure date, the Omni will charge an early departure fee equal to one night's room and tax to your account. If you wish to avoid an early departure fee you need to advise the hotel at or before check-in of any change in your planned length of stay.   
Taps & Tacos: A Private Brewery Tour
Special Event – $75
February 7, 1-4 PM
---
Anthem Brewing is one of Oklahoma's original craft breweries, founded in 2012 by a burning passion for creating world-class beers. Throughout the years, Anthem has expanded its original Belgian-influenced focus into a well-rounded American Craft Brewery, creating exceptional beers from the old & new world brewing styles that are sure to please any beer lover's palate.
At the event, you will get a behind-the-scenes look at how it is all made. Not a beer drinker, no problem! There will be some delicious tacos and non-alcoholic drinks for everyone.
Located less than a mile from the OMNI, it is a $10 uber ride, or if the weather is nice, the walk is approximately 16 minutes. Registration to attend is $75 and includes a private tour of the brewery, 4 craft beers, and a build-your-own taco buffet.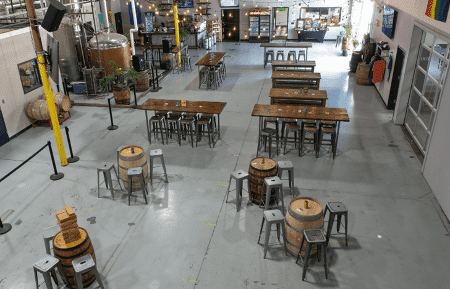 Sponsorship Opportunities
Not only will an SGA sponsorship help you stand out from the competition, but you will gain opportunities to engage one-on-one with people looking for relevant product solutions. Participating as a program sponsor is about starting quality relationships and remaining on the minds of attendees well after the event. The rewards are endless.
View the 2023 Sponsor Brochure here or contact tina.hamlin@southerngas.org to take advantage of the numerous upcoming sponsorship opportunities with SGA.