Event Overview
Environmental, Social, and Governance (ESG) has gained increasing attention over the past few years, with many institutional investors investing only in those companies that provide ESG performance reporting.  An introduction to Environmental, Social and Governance for the natural gas industry provides an overview of an ESG framework and how it supports a company's overall risk management. We will look at each component in detail and deliver insight into how those components converge to impact a company and its stakeholders. Whether you're in distribution, transmission, marketing, E&P or a supplier you will no doubt be faced with a growing interest in ESG and how it informs you or your company's decision-making.  The intention of this course is to prepare you with the foundational knowledge needed to respond effectively and help you understand how the stakeholders are using ESG information to conduct due diligence and make investment decisions.
Attendees will receive 2 Professional Development Hours (PDH) and Level 1 Natural Gas Industry ESG Professional Credly badge upon completion.
Learning Objectives
Explain what ESG is and its relevance to how investors make investment decisions
Describe key environmental, social and governance issues
Explain how stakeholders influence corporate ESG performance
Analyze ESG risks and opportunities
Review a case study using publicly available information on ESG performance
Translate ESG information into business intelligence
Who Should Attend
An Introduction to Environmental, Social and Governance (ESG) is perfect for any natural gas professional who would like to better understand how a company manages ESG risks and opportunities. This course explores concepts that will be useful for professionals seeking to gain further insight into ESG.  It is geared towards beginner or intermediate experience with ESG.
CORE Training Program
---
This course is part of our CORE, Career Onboarding & Refresher Training, program. This 4-course, discounted program is designed for new and existing energy company employees. Choose from 6 SGA courses (live, in-person and on-demand) to round out your ideal program.
Check out our CORE Training page to save $200 in enrollment fees with this program plus, attendees have the flexibility to choose when they complete the four courses throughout the year.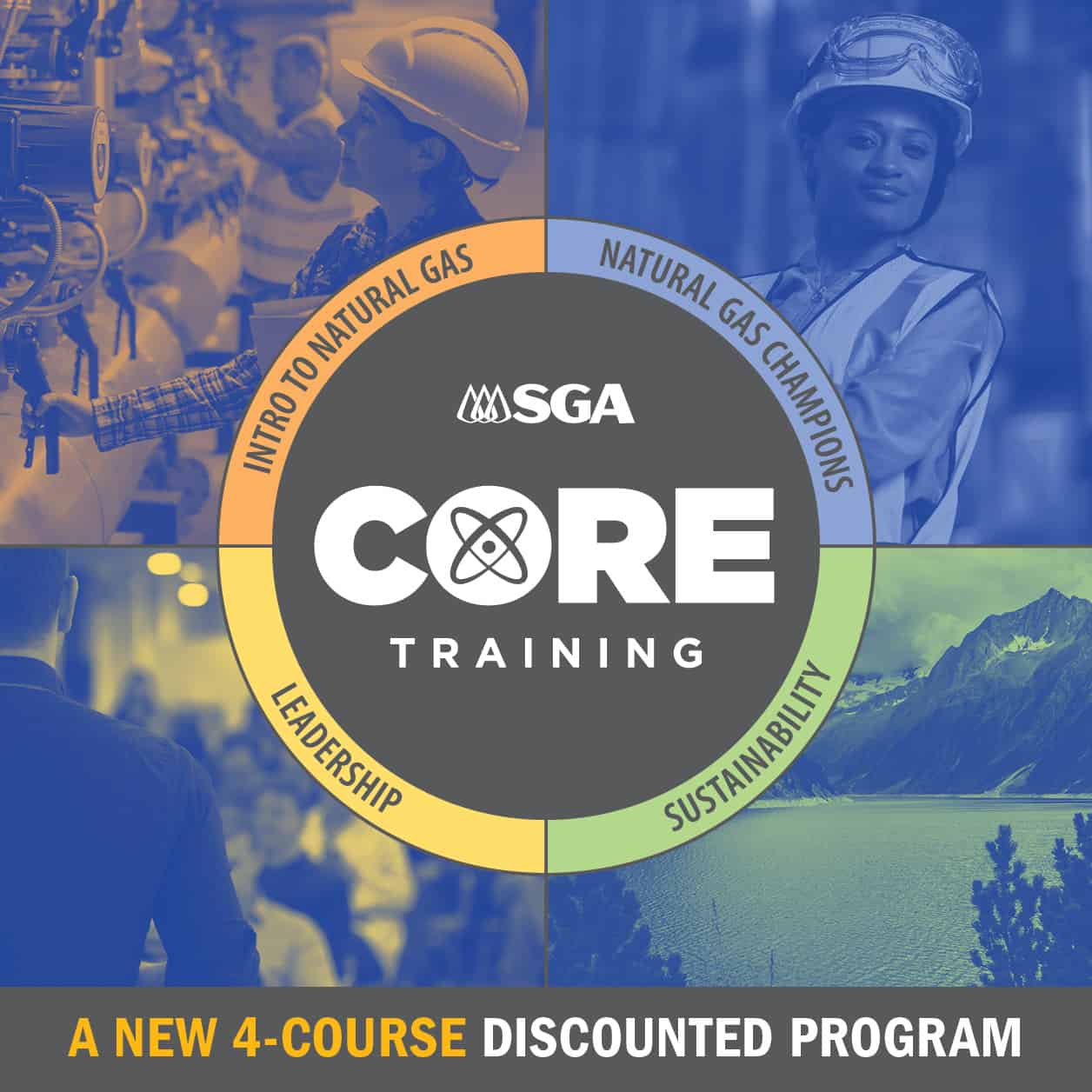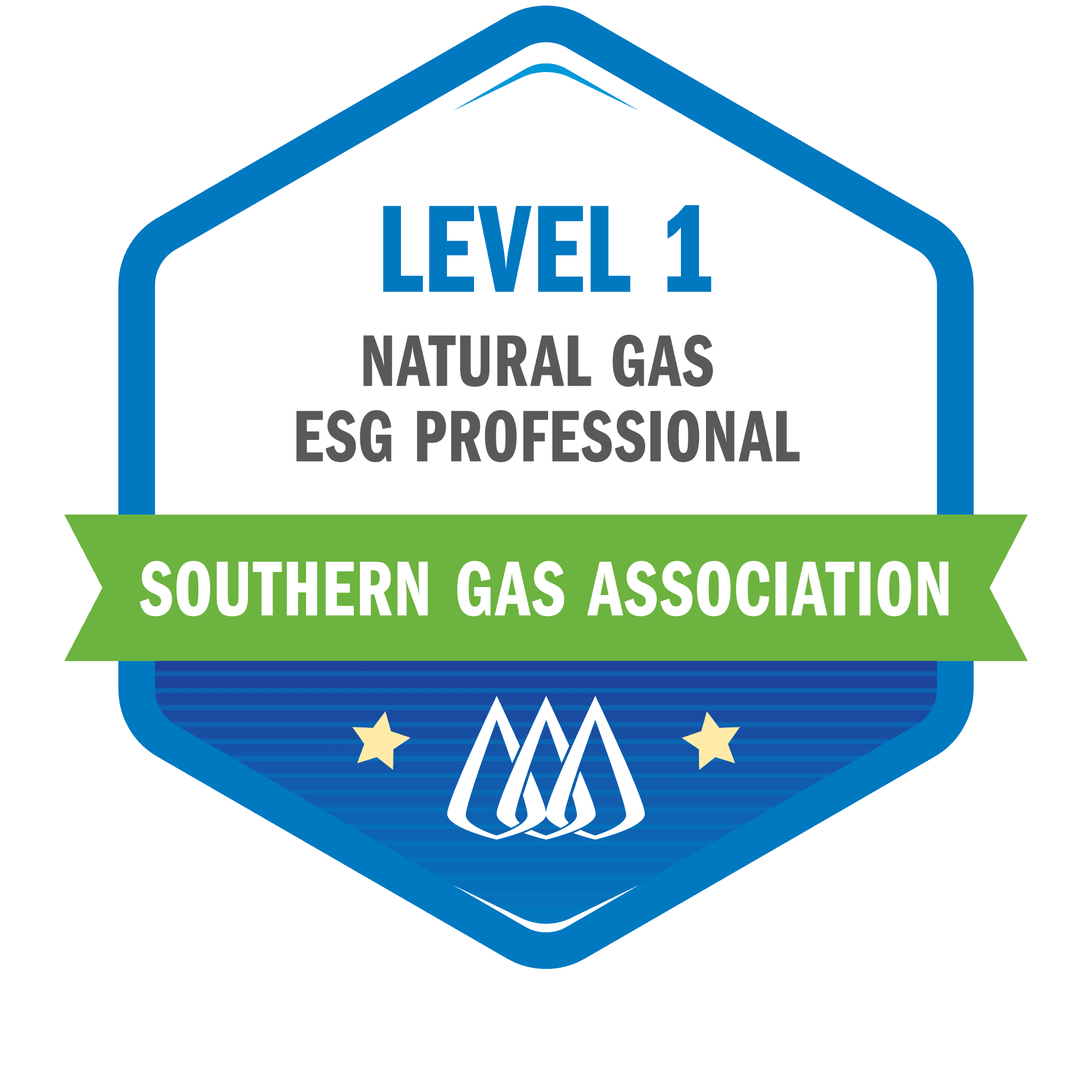 Credly Digital Badge
Level 1 Natural Gas Industry ESG Professional
---
SGA has partnered with Credly, the leader in digital credentials, to certify the recipients have a fundamental understanding of the ESG framework and its relevance to organization's risk mitigation and shareholder commitment. Individuals with this credential have a demonstrated working knowledge of how ESG impacts investors and investment decisions, how stakeholders influence corporate performance, and can analyze ESG risks, opportunities and business intelligence.
Criteria
To earn this badge, participants must complete 2 hours of Southern Gas Association's Introduction to ESG. Additionally, they must be currently employed or be enrolled in an educational program with professional, technical, or field exposure that is directly attributed to the natural gas industry.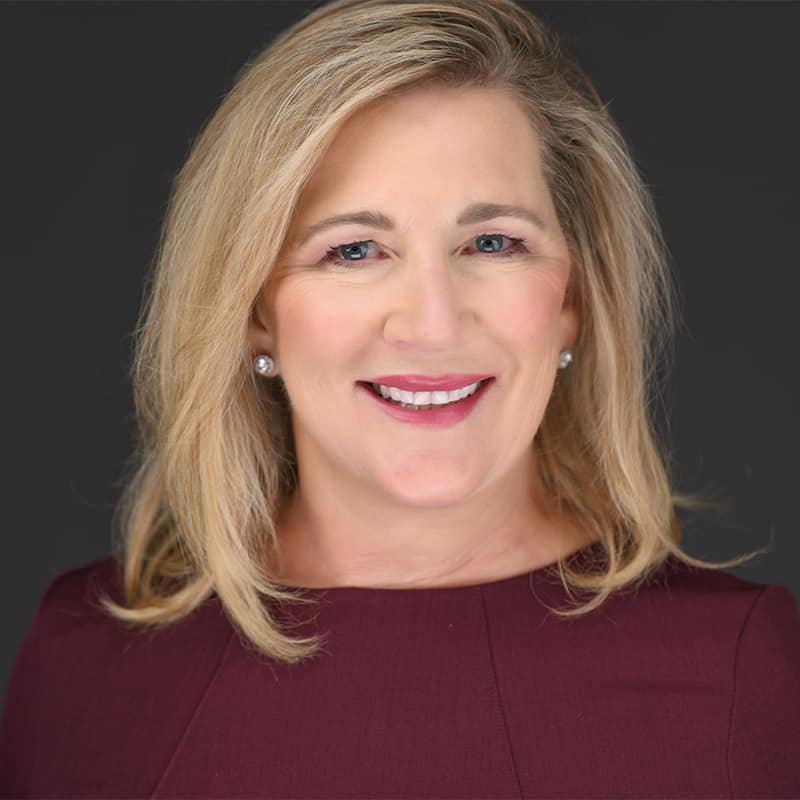 Meet the Instructor
Suzanne Ogle
President and CEO
Southern Gas Association
---
Suzanne Ogle is President and CEO of the Southern Gas Association.  As CEO she helps SGA members overcome the challenges, they face operating in the natural gas industry and navigating public perception.  With her entrepreneurial mindset and wide range of experience across the natural gas value chain from service, to exploration and production, midstream and transmission she focuses on business process, optimization and effective communication to prepare the SGA members for resilience and innovation in an industry in transition.
Suzanne is an Accredited Public Relations and Certified Investor Relations professional.  She holds an Advanced Marketing certificate from Southern Methodist University, as well as Finance Management, Business Analytics and Change Management certificates from Cornell University and an Executive Leadership for Energy Professionals certificate from the University of Houston. She received a Master of Education in educational psychology and a Bachelor of Arts in business marketing from California Lutheran University.