Workshop Summary
This two-day workshop provides a technical overview of the inspection and compliance processes required during pipeline construction. Registrants can expect to have the following knowledge resources following coursework completion.
Understand environmental inspection programs and revegetation restoration following project completion.
List the components and processes with confidence relating to pipeline construction projects.
Utilize the why, how, and where environmental inspectors align with inspection teams.
Know how environmental inspectors manage their responsibilities and how those responsibilities interact and impact other construction inspectors.
Pipeline construction projects are complex for seasoned and new inspectors. This workshop provides an open forum for registrants to learn from field experts in pipeline construction, permitting and inspection. Additionally, time and space are intentionally set for open dialogue amongst instructors and registrants to discuss trends, challenges, and solutions that are unique to the field and individual experiences.
This workshop qualifies for 15 Professional Development Hours (PDH). Upon successful completion of this workshop, registrants will be presented with a digital SGA accreditation as a Level 2 Environmental Compliance of Natural Gas Pipeline Construction Specialist badge.
Learning Objectives
Summarize pipeline construction-related terms and activities.
Understand environmental inspection-related requirements for pipeline construction projects.
Know construction and inspection best practices.
Utilize pre-project compliance checklists and specification summaries.
Develop and expand a network of peers and subject matter experts for ongoing resources and support in t environmental compliance during pipeline construction.
Workshop Topic Review
Synopsis of a Successful Environmental Inspection Program
Environmental Requirements
Clearing
Grading
Erosion Control
Sediment Control and Right-of-Way Revegetation
Trenching
Pipeline Installation
Waterbody Crossing Requirements and Methods
Wetland Crossing Requirements and Methods
Site Cleanup
Right-of-Way Restoration
Who Should Attend
All new and existing employees with responsibilities that range in:

Engineers responsible for pipeline design and/or construction management.
Managers responsible for pipeline permitting and construction management.
Personnel responsible for permitting pipeline projects.
Personnel assigned to the task of ensuring regulatory compliance during pipeline construction activities, specifically relating to environmental regulatory compliance.
Recommended Hotels
Information to come.
Registration Fee Includes
Fee includes breakfasts, lunches, beverage and snack breaks and all workshop materials.
*Possible Dinner event will be planned with a minimum number of 25 class registrants. Please email martha.stedman@southerngas.org if you have any special dietary restrictions.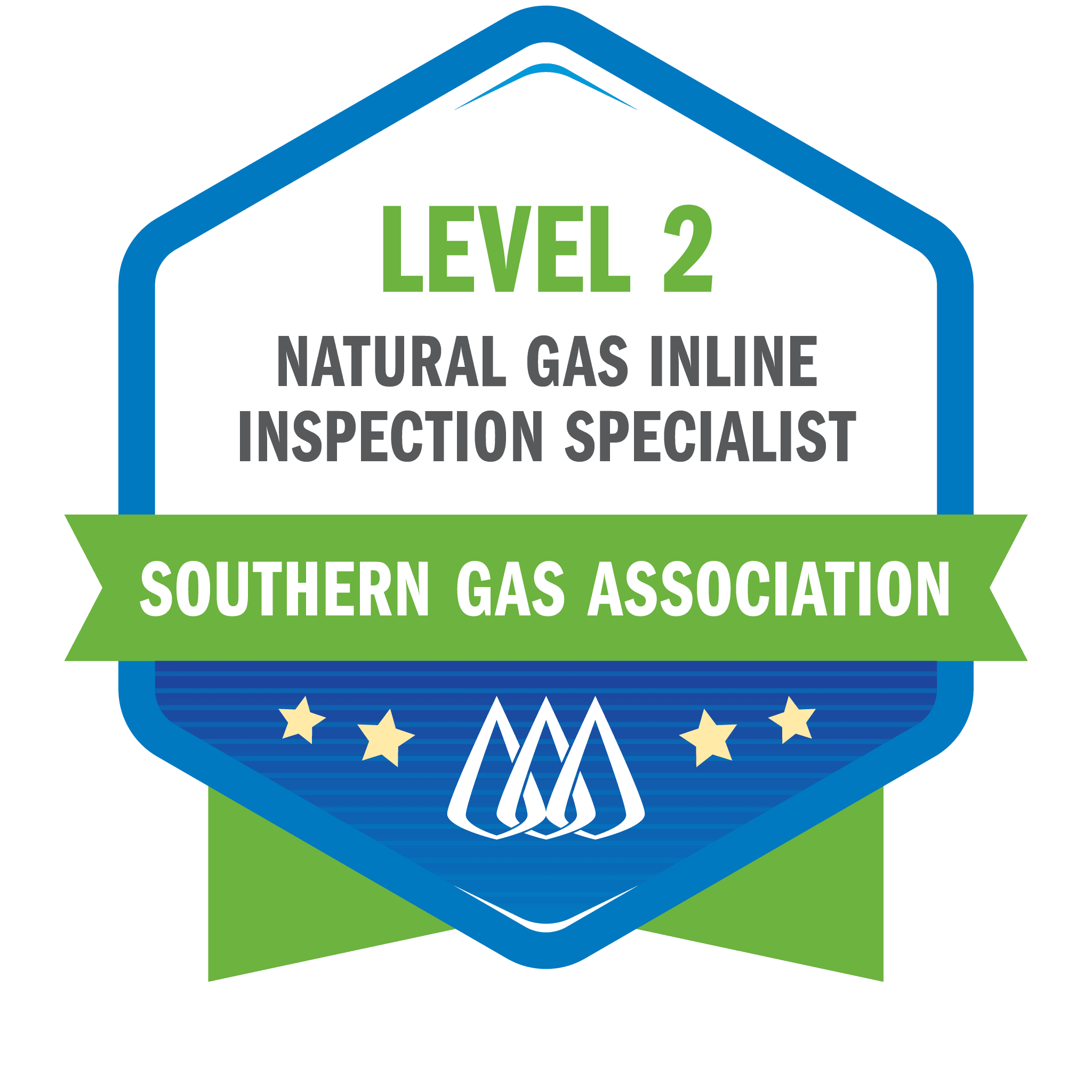 Credly Digital Badge
Level 2 Environmental Compliance of Natural Gas Pipeline Construction Specialist
---
SGA has partnered with Credly, the leader in digital credentials, to certify the recipients have a demonstrated a commitment to gain a foundational understanding of local, state and federal guidelines and regulations that pertain to laying new pipeline throughout the contiguous United States and coastal regions. Further, they have communication skills necessary to act as the moderator between the company, contractor(s), and environmental inspector (s) during the entirety of a project's life cycle.
Criteria
Level 2 Environmental Compliance During Pipeline Construction Specialists with this credential must have completed Southern Gas Associations' in-person two-day workshop and onsite course material, of which requires being your group's spokesperson as a subject matter expert at least once. Additionally, they must be currently employed and have professional, technical or field exposure that is directly attributed to the natural gas industry.
Meet the Instructors
Scott Rowland
Over the past 27 years, Scott Rowland has worked on all phases of environmental planning, construction and compliance management, and operations and maintenance activities for small and large-scale utility projects. He is experienced in state and federal regulatory requirements related to small and large-scale utility and energy projects, and has successfully negotiated agency agreements, permits, and required filings for complex linear infrastructure projects in Arizona, California, Idaho, Nevada, Oregon, and Washington. He combines environmental resource expertise and regulatory knowledge with practical construction experience, managing environmental compliance programs and overseeing environmental compliance activities during the construction of natural gas transmission, electric transmission and distribution, water, fiber, and other energy-related projects. Mr. Rowland has extensive experience providing biological and regulatory support for the construction, restoration, operation and maintenance of natural gas, electric, fiber optic, and water utilities throughout the western United States. Mr. Rowland is also an experienced field biologist, whose biological expertise is focused on the flora and fauna of the Western United States. Mr. Rowland has a Master of Arts in Biological Science/Vertebrate Ecology and a Bachelor of Arts in Biological Science.
Steve Riggs
With 27 years' experience in the industry, Steve Riggs has a strong background in environmental inspection with expertise in stream and wetland crossings along with final cleanup operations. He has inspected both oil & gas pipelines and electric transmission construction across a diverse range of habitats in Arizona, Maine, New Hampshire, West Virginia, Utah, Nevada, Wyoming, Colorado, Louisiana, California and throughout the Midwestern United States. He is a highly capable environmental consultant, project manager, lead environmental inspector, agency monitor (BLM & FERC) and environmental trainer with experience working with agency and contractor personnel on multi-jurisdictional projects. Besides his field experience, he has also worked in office settings in Denver, CO; Minneapolis, MN; San Diego, CA; Houston, TX; Kansas City, MO, Las Vegas, NV; and Los Angeles, CA.
Tim Drake
Tim Drake is a senior consultant at Natural Resource Group, LLC, specializing in pipeline routing, construction, restoration, and environmental inspection issues. Tim has extensive experience working with clients to develop project-specific environmental mitigation plans and support environmental inspection and compliance programs. He has worked closely with project engineers, construction supervision teams, and agency regulators to develop and implement project plans and techniques to construct through sensitive resource areas including trout streams, wetlands, and national forests.
Chris Cable
With 20 years of experience, Mr. Cable is among the industry's most experienced and recognized pipeline construction professionals.  Mr. Cable has served as the Environmental Project Manager/Inspection Coordinator on several high-profile projects including the TGP 300 Line Expansion, Energy Transfer Company Tiger Pipeline Project, Dominion Cove Point Expansion Project, as well as serving as the Chief EI/Environmental Coordinator for the Columbia Gas Pipeline Line 1278 Replacement, Duke Energy Patriot Project, Williams Market Link and Leidy East Pipeline Project, and El Paso/Petal Gas Storage 100-Line Project.  Mr. Cable also has a thorough understanding of FERC requirements having performed environmental permitting and served as a FERC Monitor on El Paso/SONAT's North Alabama Project and the Maritimes & Northeast Project, as well a number of other projects nationwide.  Mr. Cable is nationally recognized as an invited speaker at the Southern Gas Association's Environmental Inspector training sessions.  Mr. Cable's depth of experience includes all phases of pipeline project development from environmental field surveys, permitting, mitigation planning and design, to environmental inspection and coordination of inspection programs and post-construction monitoring programs.  Mr. Cable is based near Albany, New York.
Stacey Atella
Stacey Atella is a Project Manager with 20 years of experience providing regulatory compliance and project management support for major natural gas pipeline systems. With a technical background ranging from initial routing and siting studies to planning and permitting to training program development and construction compliance management, she is experienced in managing the environmental aspects of natural gas projects from conceptual siting to placing the line in-service.
Stacey's experience includes federal and state permitting in support of the National Environmental Policy Act process, with specific expertise in projects regulated by the Federal Energy Regulatory Commission. She is skilled in the acquisition of permits and clearances in compliance with the Clean Water Act, Endangered Species Act, and the National Historic Preservation Act. Her permitting and compliance experience spans a variety of environmental settings from urban and industrial areas to wetland complexes and offshore habitats in support of a diverse portfolio of natural gas infrastructure projects.