Event Summary
This two-day workshop prepares attendees with the knowledge necessary to navigate the Department of Transportation's (DOT) regulation of natural gas pipelines.
Class registrants will understand applicable coding and administration that pertains to DOT regulations. Specifically, know 49 CFR Part 190, 191 and 192.
LEARNING OBJECTIVES
Learn how to navigate and access code interpretations made publicly available by the DOT.
Understand variances of local, regional, state, and federal considerations.
Identify your peer resource group in the industry for support, advice, and consult.
WHO SHOULD ATTEND
Individuals working with pipeline safety regulators (state or federal).
Individuals in the compliance group of a natural gas organization.
Individuals performing design, construction or post-construction inspection or testing activities.
Individuals supervising personnel who perform operations or maintenance activities.
Individuals with subject matter expertise in operations, maintenance or corrosion control.
Individuals involved in integrity management activities.
Individuals performing audits of pipeline safety activities and records.
Individuals in the legal department and involved with pipeline safety.
Individuals in a management role responsible for pipeline engineering or operations.
Attendees will receive 15 Professional Development Hours and the Level 2 Department of Transportation Natural Gas Pipeline Compliance Specialist digital badge from Credly upon completion.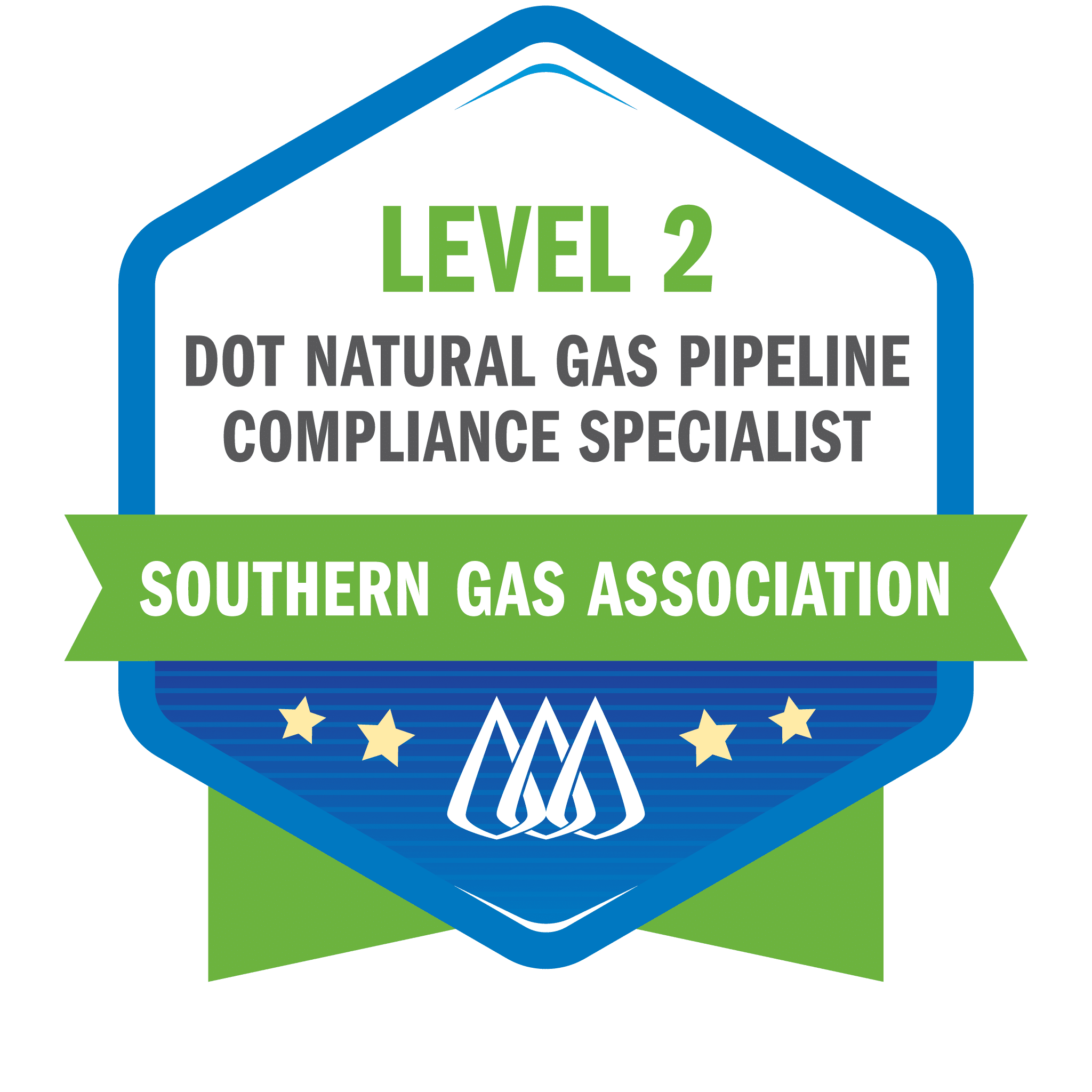 Credly Digital Badge
Level 2 Department of Transportation Natural Gas Pipeline Compliance Specialist
---
SGA has partnered with Credly, the leader in digital credentials, to certify the recipients have demonstrated a working understanding of the Department of Transportation's pipeline safety regulations. They have satisfactorily completed fifteen development hours to understand 49 CFR Part 190, 191 and 192 and how they directly impact operations, integrity management, pipeline safety auditing, construction and compliance.
Criteria
To earn this badge, participants must have successfully completed fifteen hours of Southern Gas Association's DOT 192 Compliance for Natural Gas Pipeline Operators Course. Additionally, they must be employed or enrolled in an educational program with professional, technical or field exposure that is directly attributed to the natural gas industry.
Meet the Instructor
John S. Zurcher, Principal, P-PIC
John has spent 30 years in the gas pipeline industry, actively involved in pipeline safety. He served as vice president of the Hartford Steam Boiler Inspection and Insurance Company, Pipeline Group, consulting to natural gas and hazardous liquid pipeline operators, trade associations and research organizations.
Previously, he worked for Columbia Gas Transmission Company as manager of field services, responsible for company compliance with federal regulations, management of capital budget programs, and development of the corporation's risk management program.
At Tenneco Energy, he was director of pipeline services, where he oversaw corrosion control, geographic information system development, applied systems, and pipeline rehabilitation, integrity, and safety projects. With PanEnergy Corporation, Coastal Corporation, and Colorado Interstate Gas Company, his duties included design and operations, codes and standards, corrosion control, telecommunications, geographic information systems, and facility design and construction.
John is presently a member of NACE and ASME and serves on the B31.8 Section Committee. John has been chair of the INGAA Pipeline Safety Committee and the GRI System Integrity and System Operations Committee. He was a member of the DOT Technical Pipeline Safety Standards Committee, the DOT Risk Management Quality Action Team and their Mapping Quality Action Team. He has testified on behalf of the industry before the U. S. Congress on several occasions on matters relating to pipeline safety.