Event Summary
Cathodic Protection, commonly referred to as CP, is one of the most effective methods for mitigating corrosion attacking your most valuable assets. This half-day session is divided into three sessions that will introduce you to the fundamentals of CP, explain what the regulations require of your CP system, and provide an example of how CP is applied to storage wells.
Attendees will receive 3 Professional Development Hours (PDH) and a Level 2 Natural Gas Industry Cathodic Protection Specialist digital, Credly badge upon completion.
Part 1: Introduction to Corrosion and Cathodic Protection
This session will establish the definition of corrosion as the "Electrochemical Cell" while focusing on cathodic protection as a practical tool for corrosion mitigation.  Understanding the "problem" is critical to resolving that problem.  A clear understanding of the "Electrochemical Cell" allows for the design of a safe and effective cathodic protection system to mitigate corrosion of critical assets.  This session involves a high-level look at the science of corrosion while recognizing best practices associated with the application of cathodic protection to industrial assets.
Part 2: Regulatory Requirements for Corrosion Control
This session is a review of the federal codes and their relationship with various state and local codes addressing corrosion and corrosion control associated with gas pipelines, liquefied natural gas facilities, hazardous liquids pipelines, UST's, and AST's.   The CP technician should have a clear understanding of where to locate these codes, key distinctions between them, as well as the applicability of the various codes to assets under his control.  This session will provide an overview of federal corrosion control requirements and demonstrate free web-based tools that enable operators to find the latest rulings that apply to their assets.
Part 3: Cathodic Protection for Production and Storage Well Casings 
Advancements in horizontal drilling technology and hydraulic fracturing have produced an explosion in the number of active natural gas wells in the United States. Increases in supply and demand for natural gas have also increased dramatically the need for high-pressure gas storage. As gas production and storage wells grow in number, the threat of well casing failures causing environmental damage increases every year. External well casing failures as a result of accelerated corrosion can lead to costly repairs or even well abandonment. External well casing corrosion can be safely and practically mitigated with the proper application of cathodic protection. This presentation will include best practices for well casing cathodic protection design, installation, and monitoring as a means to reduce the risk of failure and reduce the ongoing cost of preventable well casing repairs.
LEARNING OBJECTIVES:
Know electrochemical cell corrosion definitions and cathodic protection as a practical tool for corrosion mitigation.
Understand electrochemical cell to allow for safe design and effective cathodic protection.
Utilize best practices to mitigate corrosion.
Familiarize with federal codes, regulatory corrosion control requirements, and web-based tools to find current rulings.
Mitigate external well casing failures through design, installation, and monitoring.
WHO SHOULD ATTEND
Pipeline Integrity and Engineers and Managers
Corrosion Managers and Engineers
Design and Construction Engineers
Compliance Managers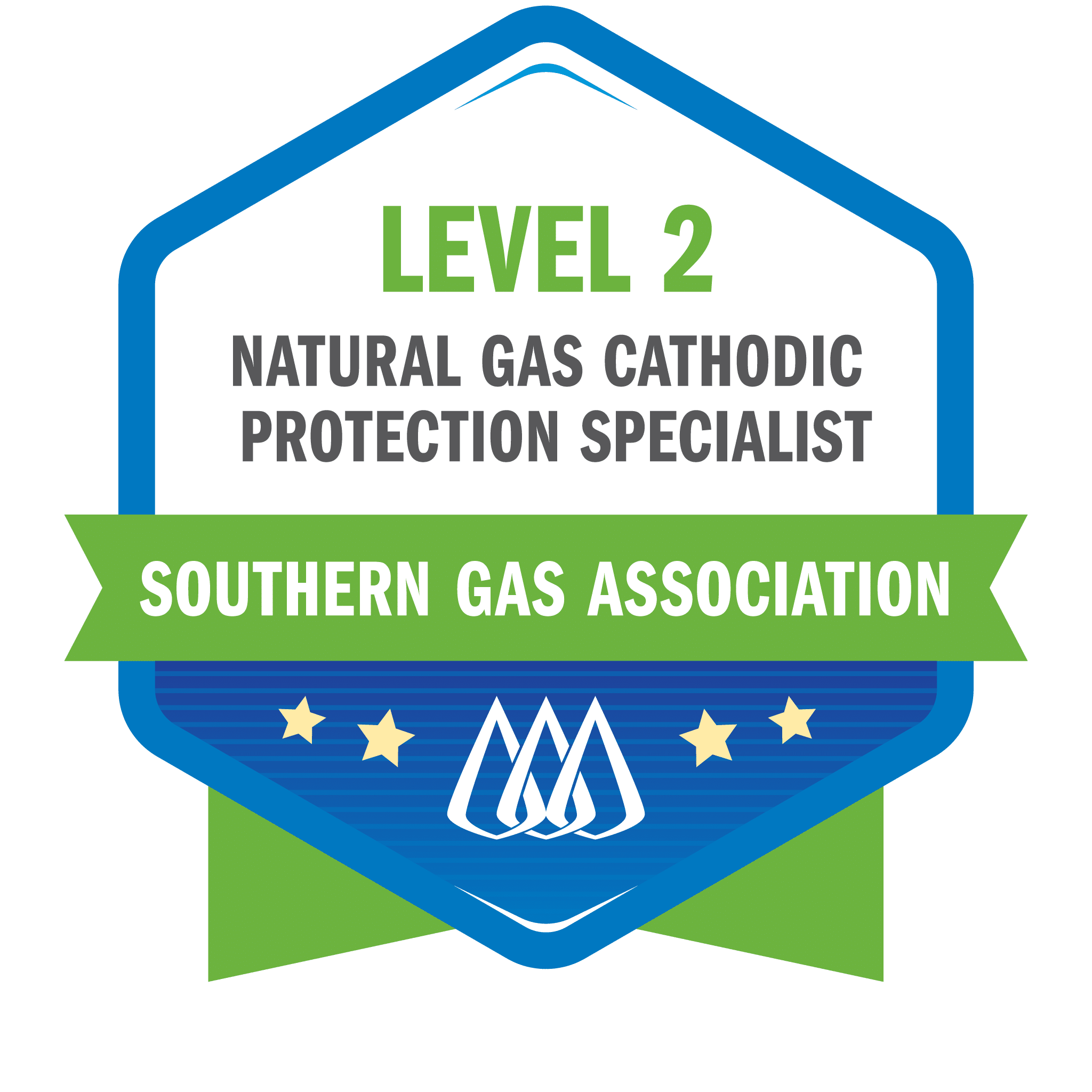 Credly Digital Badge
Level 2 Natural Gas Industry Cathodic Protection Specialist
---
SGA has partnered with Credly, the leader in digital credentials, to certify the recipients have a fundamental working knowledge of cathodic protection and corrosion mitigation. They have demonstrated a high level understanding of corrosion sciences and industry best practices to safeguard industry assets. Earners of this badge have familiarized themselves with federal regulatory requirements for corrosion control and incorporate best practices to protect production and storage well casings.
Criteria
To earn this badge, participants must have successfully completed Southern Gas Association's Cathodic Protection Primer and Fundamentals instructor-led course. Additionally, participants must be employed or enrolled in an educational program with professional, technical or field exposure that is directly attributed to the natural gas industry at the time of course enrollment and when their badge is issued.
Meet Your Instructor
Jordan Groody
Bass Engineering Company
---
Jordan Groody leads the technical services group for Bass Engineering Company.  With thirteen years of cathodic protection experience, he provides technical solutions, advice, support, and training to a variety of clients across the oil and gas industry. Jordan is experienced in the design, installation, and testing of both cathodic protection systems and induced AC current and lightning effects mitigation systems. Mr. Groody is NACE-certified cathodic protection technologist (CP-3) and NACE CP-1 and CP-2 certified instructor. He earned a Bachelor of Science Degree in Aeronautical Science and a Master of officer for the NACE Central Area board of directors.